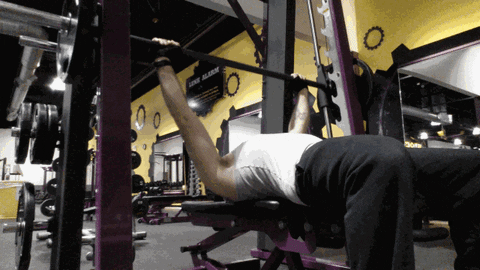 Today's fun topic of discussion for all my fit crazed people is: smith machine vs barbell. Now for many of you; you have a preference and some of you choose to only one use or the other depending on your fitness level. 
If you are not aware of what a "smith machine" is, here is a link: Smith machine article , the particular article highlights why they enjoy using the smith machine. If you aren't aware of what a barbell is, look at the image above. 
I'll begin by expressing that I have used both the smith machine and the barbell and I have a  preference depending on the exercise I am doing at the time. I believe both can be useful for different reasons and depending on the person; so I am going to do a separate list of both with the pros and cons of each 🙂 
Good for de-conditioned persons
don't have to use a spotter
light weight
typically found at commercial gyms
wide variety of exercises can be done
not recommended for deadlifts & Squats
plane of motion is fixed
not recommended for olympic lifts 
harder to develop stabilizer muscles
not functional – meaning because of the movement being "fixed" you aren't using the same ROM you normally would have to during everyday activities
Good for safety
good for hypertrophy training
good for when someone has an injury
Found in a lot of powerlifting, athletic and some commercial gyms

goes through full ROM

heavier bar

advanced athletes and intermediate athletes

need a spotter for the heavier weights

used for olympic weights, squats, deadlifts, etc

functional

non fixed plane of motion

strength,hyperstrophy and endurance training

allows you to use your stabilizer muscles

beginners should use with caution 

variety of exercises can be done using the barbell

can give you calluses on your hands 
Basically both list have their pros and cons. I find that the smith machine does well with my vertical leg presses — whereas I wouldn't use the barbell for it because it wouldn't be able to go through the plane of motion without hurting myself. The barbell is awesome for olympic lifts and deadlifts, whereas it is MUCH MUCH harder to perform these exercises on a smith machine because of the fixed motion. Now, there is another HUGE important factor to consider when utilizing the smith machine – Your strength from the smith machine does not transfer over to the barbell. This basically means those of you who are lifting 300 lb squats on the smith machine, most likely will end up lifting lighter on the barbell because the smith machine is lighter and offers less resistance than the barbell. Many times athletes will use the smith machine for a while and then when they decide to hop on the barbell, they realize they aren't as strong as they originally thought. Keep this in mind while training. Otherwise, choose what works best for you, I think it is a good idea to implement both into a workout or to have a least one that is a preference but to know how to use the other as back up. 
Let me know which you prefer . 
Leave comments, share, likes and follow.