Jump Squats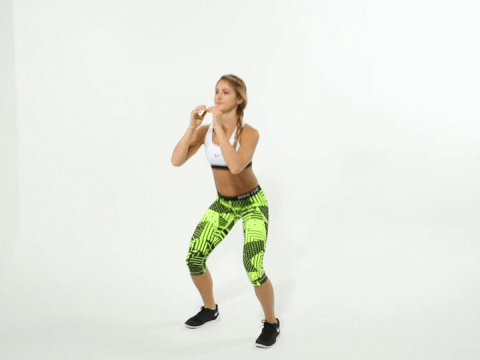 It is all in the name of pain that one can do Jump squats — LOL.  I remember when back when I was a spring chicken and more athletic than I am now (year or so ago) I was doing 30/40/50 reps of jump squats (and compared to some athletes now, that is nothing) but I will tell you WHAT: They definitely made you sore during and afterwards. I still implement them but not as often as I should – which will probably change now that I have mentioned them. I consider this exercise a more intermediate but can be advanced if you add weights (barbell, kettlebells, dumbbells, etc) to the mix; we won't go to that extreme for the sake of this blog post (face it, bodyweight is a challenge)
The important thing to remember is form during this exercise and how to explode UP when you jump ( I posted a video for your use) typically this exercise is used as a plyometric exercise but in the shadows people call it "fuck this.. I can only manage 5" LOL — I like to think we can all do at least 10.. but if you are like me.. 50 reps makes us feel like a superhero so we go all the way to 50 and regret it later but have ego points! haha LET THE JUMPS BEGIN!
Feet will be shoulder width apart, head up and back will need to be straight
Squat down until your upper thighs or parallel or lower to the floor – also don't forget to inhale
Press down with the balls of your feet, and jump straight UP as high as possible. You Exhale during this portion of the movement
After touching the floor again, immediately squat down and repeat the movement
If you are aware of proper squat form then this won't be too difficult, however, if you are unsure of squat form, go back to the basics and learn that FIRST!  Obviously be aware of your injuries/conditions that could prohibit you from completing this movement, so talk to your medical professional FIRST before conquering this exercise. 
Core 
quads
hamstrings
glutes
lower back
This is one of those exercises, where it can be done practically anywhere and doesn't need any equipment, but be sure you have ample space and head room for when you jump, I don't want you to endure any avoidable injuries. Enjoy!