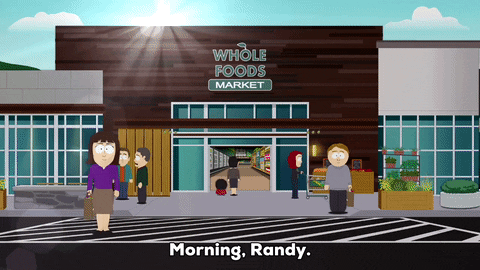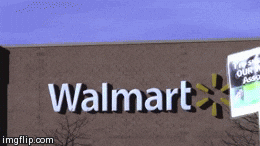 I figured this would be a fun little discussion between two grocery stores. The reason why I chose these two is because: 1) whole foods is known to be one of the better stores to have healthier options, 2.) most people know what a "Walmart" is and it is another grocery store that is popular among Americans. Both of these grocery stores have pros and cons and some of you might shop at one or the other or both depending on your needs and finances. 
My town does not have a Whole Foods store, but we do have a Walmart – two of them. I don't particularly like shopping at Walmart because of it being constantly busy, sometimes the people piss me off (this is just honesty) and I live closer to a Kroger store but I will shop there for my feminine products and minor grocery depending on what it is. When I resided in Colorado Springs (I now reside in Ohio) I would go to Whole foods just for the burritos they made, so good! yum! but never actually shopped at a Whole Foods Store. The closest Whole foods to me would be about a hour or so away, so not too bad. 
Keep in mind this blog topic isn't meant to make one out to be BETTER than the other – but to give perspective and start an engaging conversation as to why you shop at one or the other, or both! Maybe you don't shop at either one of these stores, and if that is the case, share what store you prefer and why! This will be from my own perspective/data and also from research! 
They pride themselves with "Always low prices"

Price matching

newspaper ads, online presence

During the holidays some of them offer layaway

You can buy food, clothing, electronics, furniture, misc, household cleaning supplies, etc – in other words, ONE STOP SHOP! 

they typically have restaurants inside them, so if you get hungry

Their locations are vast

huge employer

most have a vision place to get exams, eyeglasses, contacts

most offer a tire/lube place to have your vehicles tires replaced or oil change

instore pick up or ship to home option

Some might add the entertainment value (all sorts of society shop at Walmart) for a while there was a site or YouTube channel called the "people of Walmart"

offers a credit card

Typically attracts other businesses when a new Walmart comes to town

Self check out option

They accept EBT, debit/credit, checks, cash, Walmart gift cards, etc as a form of payment

Typically open 24 hours

Great Value brands for cheaper prices

Gives towards charity

They bake cakes for special occasions
Typically has one or two registers open – so either have to use the self check out or wait in long lines 

Whenever I have gone to a Walmart and needed help finding a particular product, 95 percent of the time the employee didn't even know what it was, didn't know where it was located within the store

I have found where they mark something down on a tag and it is the same price as the regular price

I am not a huge fan of their produce area 

I have been told the pay rate sucks as an employee there (depending on where you live)

Their pricing of clothing isn't that much cheaper than shopping someplace else with better quality (in my opinion where I reside)

The cashiers always seem in a sad or bad mood whenever I've been there. lol I have had some rude ones too! 

I don't like their quality of beef or chicken 

Sometimes the great value price is higher than the name brand

People drive like maniacs through their parking lot — this is just from my own experience 

It's a huge store, many times you have to go from one end to the other to get everything you need – so if you are ever in a rush for time, this is probably not your go to
Now this whole pro and con list is again from my experience and different research I've done, be sure to add your own opinions to either list! 
Good for college students who are need of a job (research says many college students work here to earn extra income)

Supposedly great medical insurance 

Quality products 

Most if not all of them offer a salad bar, food kitchen area to have food made out for you to go or stay and eat

surrounded by people who like eating healthier food options

Educates people on healthy eating

Variety of food products

All meat sources at Whole foods is said to be raised without hormones or antibiotics 

Gluten free food selection

Typically more local foods found here

They care about the environment

By 2018 they are supposedly going to commit to GMO labeling on all their products

Quality standards for both farm and wild caught seafood

offers coupons

online recipes on their site

able to shop online

offer flyers
Not a one stop shop

tends to be more expensive

Located in bigger cities vs smaller communities (typically)

spending more and bringing home less groceries (a reviewer said)

Some people prefer trader Joes over whole foods.

Bigger stores – again can make it harder to navigate

Have been reported they sometimes make it hard to tell the prices of things on their shelves
Again, Whole foods list of pros and cons came from my own experience and other reviews I had seen online. Feel free to add to either list your opinions! 
I hope all of you enjoyed this fun topic between the two stores! the MOST IMPORTANT PART OF CHOOSING A GROCERY STORE is choosing one that fits your needs and budget! 🙂