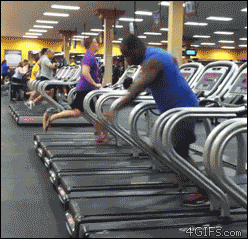 Today, I decided to share a cardio workout I created for myself. I don't typically show my full blown cardio workouts, but I had someone assume that I don't usually do more than 5 minutes worth of cardio on my lifting days, and while that is true to a certain extent, it doesn't mean I don't do cardio for longer than that. I kind of keep my cardio workouts a secret (besides the ones you see on this blog or social media) because I feel like they are different enough where I don't want to give out all my secrets just yet – not to mention, there is a BIGGER purpose to everything I post and don't post when it comes to fitness/health, so I don't want to give everything away. This particular cardio routine is very basic & seemingly easy compared to other cardio days. I finished it, so that is what matters & my legs are sore. 
Jump rope: 30/30/30 seconds
Jumping jacks: 30/30/30 seconds
I did jump rope for 30 then jumping jacks for 30 back and forth without stopping for 3 sets. 
Jump rope: 45/45/45 seconds
Jumping jacks: 45/45/45 seconds 
Again, I did jump rope for 45 seconds then jumping jacks for 3 sets without a break
High knees: 30/30/30 seconds
mountain climbers: 30/30/30 seconds
high knees: 45/45/45 seconds
mountain climbers: 45/45/45 seconds 
no breaks between the high knees and mountain climbers for 3 sets
30 seconds
45 seconds 
I did 30 second sprints the 45 second sprints with NO break between, after the 45 seconds I would take a 1 minute break and start again for a total of 10 times I did this! The sprinters for 40 yard dash 🙂 
Jump rope: 1 minute
Jumping jacks: 1 minute
High knees: 1 minute
mountain climbers: 1 minute
Stationary upright bike: 3 minutes, level 20 resistance