Week 5/ Day 4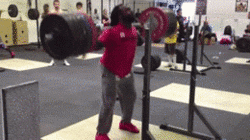 Today's lift was focused on squats and quad assistance work. I did heavy lifting on my squats, and noticed some improvements — so happy! I also did some ab work and cardio (changed up the cardio). I will leave a like at the bottom to my Instagram page; which will have all the squat videos from today and the lift numbers (I have a total of 5-7 videos from today of my squats) so be sure to check it out and follow me! 
Barbell back squat: 3 x 3
70% of 90% of 1-RM: 135 lb

80% of 90% of 1-RM: 150 lb

90% of 90% of 1-RM: 170 lb, 5 reps max

1 rep: 175 lb

1 rep: 180 lb

1 rep: 185 lb

1 rep: 200 lb
Barbell Front Squats: 5 x 12, 75 lb

Barbell box squats: 5 x 15, 145 lb

Leg press (quad dominant): 5 x 15, 298 lb

leg extensions: 5 x 15, 60 lb
Ab rollout: 4 x 20

medicine ball toe touches: 4 x 20, 8 lb
Treadmill interval training: 20 minutes
1 minute walk, 3.5 speed, no incline

2 minute run, 5.5 speed, no incline
I haven't done running on a treadmill for a long ass time and actually have ran besides sprints for a long as time, so decided to give it a go see where I was cardiovascular wise. I try to do 15-20 minute of cardio so that it doesn't interfere with my strength gains and I do HIIT and intervals because it works best for my goals and losing fat while still maintaining my strength. Normally people don't do cardio the same day as leg day, but I'm a rebel. LOL 
P.S 200 lb  was my 1 rep max 6 weeks ago, today I proved that I can move above that when I noticed I hadn't struggled as much as I had 6 weeks ago — so happy to see the small improvements.