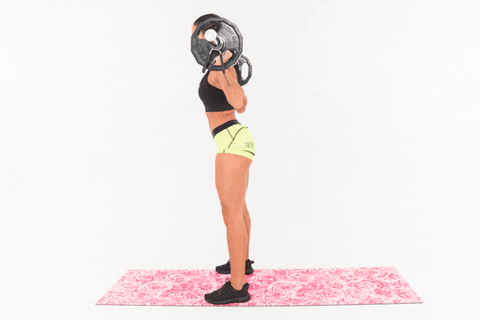 Not going to lie, I was nervous about today's workout being a leg day because after missing two days at the gym, I knew I had lost some upper body strength and I was really hoping I didn't lose any lower body/core strength, thankful, everything went as planned! 
Barbell back squat: 3 x 8, 140 lb
Standing calf raise: 3 x 8, 120 lb
Barbell romanian deadlift: 3 x 8, 190 lb (2 sets without the belt & 1 set with the belt)
DB lunge: 3  x 8, 50 lb
Barbell curl: 3 x 8, 55 lb
Lying triceps extension: 3 x 8, 30 lb
Hanging leg raises: 3 x 20
Body bar squat: 20 seconds/30 seconds/45 seconds, 3 lb

Kettlebell swings: 20 seconds/30 seconds/45 seconds, 10 kg
Overall the only hard part of the workout was the bicep curls at 55 this week. Last week it was easier. My deadlifts I did without a belt to see if I could pull this weight with no belt and actually did a good job but utilized the belt by the 3 set because of how fatigued I was and didn't want to mess up the lower back.