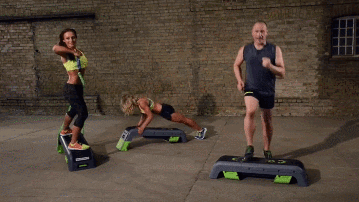 In a world where being creative is a must if you want to prevent boredom, this is where I come in and enlighten your day and workout. I strive to help people find their wings in the gym, to find exercises and training modules that work best for them individually — because everyone is an individual. It is easy to get caught up in the hustle & bustle of trying to find a workout that gives you results, keeps you entertained, challenges you & at the very best teaches you something new about your body and your limits. Many people do the same thing in and out, don't see results and don't feel challenged because they are afraid to push themselves (coming from experience, this is due to many things) but once you hop over that obstacle, you find that there is so many options and not all of them are alike, which intrigues you enough to want to give it a go.  Well, if you are ready to hop over that obstacle today, I have something that might intrigue you enough to give it a go. 
Circuit training is a fancy term for doing an abundance of exercises (typically 2 or more that are high intensity) that require you doing them in a timed situation OR a high intensity exercise that is done (typically 2 or more)  without a break between for a certain amount of reps .. for example:
Burpees: 10 reps

Jumping Jacks: 10 reps

Push ups: 10 reps
Having to do these all without a break between, one after the other for a certain amount of rounds
Burpees: 30 seconds

Jumping Jacks: 1 minute

Push ups: 30 seconds
You are having to do these exercises within a certain amount of time — and recording your results, again this would require no break in between exercises. Another option would be.. 
Do 4 of these exercises within 20 minutes of time:
Pull ups: 100

push ups: 50

burpees: 100

Kettlebell swings: 150
Basically a lot of Crossfit athletes do these and have another term for it, but it is a form of circuit– the difference being you have 20 minutes total to finish the 4 of these exercises with the amount of reps– during my CrossFit class, we didn't have a break between .. it was ongoing, sure I could stop and catch my breathe but I was trying to beat the timer, so I didn't want to take long breaks if I wanted to succeed in the workout. Time was of the essence. 
Circuit training can come in all forms: cardio, strength exercises and a combination of both. You can also choose to use machines if you aren't comfortable using free weights OR you can use body weight exercises (which means you can do them at home). Depending on your fitness level and the equipment available to you, it could be a fun workout to take on and you can change it up however you like to meet your needs. 
Pros of Circuit training:
Increases endurance

Increased muscular endurance

strength building 

can utilize weight machines, free weights or body weight

can be done at home or the gym

challenges you

lose fat while maintaining strength

Beginners, intermediate or advanced athletes

cardio, strength or a combination of both— depending on your goals
In my opinion, it is a great option for those of you who might need to turn up the fun factor in your workouts, need a challenge, want something new, great for partner workouts — where you both train together, and if you are new to exercise, it can help get you started in the right direction. I use circuit training more often than not, especially when I am doing CrossFit based workouts, or want to add some high intensity volume training. Definitely worthy of giving a go! 
Feel free to share, comment, like and follow!
Whats your favorite circuit training workout?